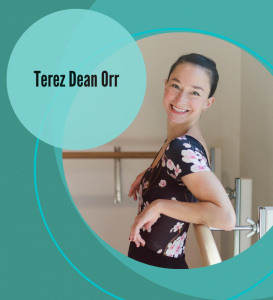 Get inspired and treat yourself to a day of ballet! Workshops are held in-person in Smuin Center for Dance's beautiful Studio A. Come learn from Smuin company artist, Terez Dean Orr.
Only $100 for the full day!
Students will start their day at 10:00 am with a Progressing Ballet Technique class led by Valerie Harmon designed to wake up the muscles for a day of ballet. The conditioning class will be followed by an intermediate/advanced ballet technique class taught by none other than Terez Dean Orr. Students will then have the opportunity to learn some of Smuin's repertoire taught by Terez. To finish the day, Terez will have 30 minutes of Q&A time for students to ask questions about their ballet journey, terminology, the life of a dancer, or anything they want. Come deepen your learning with this amazing opportunity to learn from professional dancers!
Progressing Ballet Technique
10:00-11:00am
Get your body primed for the day with certified trainer Valerie Harmon in a body-conditioning and strengthening class using ballet specific exercises focusing on core strength, alignment and weight placement.
Ballet Technique
11:15-12:45pm
Ballet class for intermediate advanced dancers focusing on musicality, expressive footwork, and expressing individuality through movement.
Repertoire
1:00-2:00pm
Get inspired while learning choreography from Smuin repertoire from our upcoming 22/23 season.
Talkin' Technique
2:00-2:30pm
Bring your questions for a discussion to help deepen your understanding of Ballet technique.
Workshop Teacher
Terez Dean Orr (she/her) teaches Intermediate/Advanced Ballet on Wednesdays. Originating from the Hudson Valley of NY, Terez has danced with Smuin Ballet for fourteen seasons, sharing her passion for dance with the audience and her students. Terez's classes dive into the elements of neoclassical technique, focusing on dynamic footwork, musicality, and the expansiveness of movement. Approachable, positive, and built to work up a sweat, Terez will help each dancer improve their strength, balance, and grace, all with a smile!
 Favorite San Francisco neighborhood: My vibrant neighborhood of the Castro: on any given day, you may find a cellist on her stoop, an Opera singer practicing in the park, or a colorful costume bestowing a queen. This area represents the artistic and eclectic beauty that makes up our unique city.
Thing that most inspires you: Traveling, discovering new architecture, food, and culture. 
Best advice a teacher ever gave you: "Always feel as if you are draped in the finest of jewels when approaching class or rehearsal. Don't dance like a frozen fish stick."