A message from Celia Fushille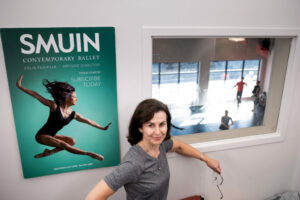 Serving as Artistic Director of Smuin Contemporary Ballet has been an incredible personal and professional journey for me. With the conclusion of our 30th anniversary season in June 2024, I have decided that I will step away as Artistic Director. 
As the last founding member still working with the company, the time is right to pass the torch to our next director, Amy Seiwert. I know that Amy will lead Smuin in bold and creative ways while celebrating all that we learned from Michael Smuin.
As Ruth Bader Ginsburg said, "Whatever you choose to do, leave tracks. That means don't do it just for yourself. You will want to leave the world a little better for your having lived." I feel this way about my work at Smuin Ballet, which isn't done, but moves into a different phase. I do not consider this a retirement, as I plan to stay active as the caretaker of Michael Smuin's body of work. And as a trustee of the Smuin Board, I will still be affiliated with this mighty company.
It was an honor when Michael Smuin approached me in November 1993 as he was forming his own company and asked me to come work with him. I had admired Michael since my teenage years, and to be mentored by him was a dream—a true gift and life-changing opportunity. After his passing, there was never an attempt on my part to fill Michael's shoes, as that would have been impossible. But I did stand on his shoulders, remembering all I learned from him, and gave my heart and soul to keeping his company alive and thriving. In the process I was able to leave my own indelible print on Smuin, naming Amy as our first Choreographer in Residence, presenting the works of more than 20 choreographers not previously seen by our devoted audience, encouraging the creation of works from within our ranks of Artists with the establishment of our Choreography Showcase, and perhaps my most important and lasting achievement, helping to raise the funds to purchase and renovate Smuin's first permanent home in San Francisco. 
With the Company stable and settled in its new home, it is time for me to focus on other things, including staging Michael's beautiful works on other companies. I enjoyed so many satisfying moments on the stage during my performing career, but equally thrilling was being in the studio by Michael's side, and helping to bring his work to life. I hope to keep his legacy alive by sharing his works with ballet companies across the globe. First, though, I will continue to put my energy, passion and care into ensuring a fabulous 30th anniversary season is presented on our stages through the coming year. I hope you will celebrate this milestone with all of us!
My gratitude to the Board of Trustees and emeriti Trustees of Smuin Contemporary Ballet is immeasurable. They put their trust in me and have supported, guided, and encouraged me through many challenges. Additionally, I could not have accomplished what I did without the phenomenal dancers and the incomparable artistic, production, and administrative teams I've had the pleasure of working with through these years. I have been humbled you followed my lead even in the moments I doubted the path forward. My boundless thanks and appreciation go to each of you! 
On a personal note, my three decades at Smuin would not have happened without my family's loving support, that of my husband and especially that of my children, who shared me with Smuin and grew up to be successful adults while watching their mother perform on stages in San Francisco and New York and later, to direct the company. Thanks also go to dear friends who watched me perform and later to direct Smuin and continued to offer their support.
I will leave this position with this mighty company to which I've given half my life, knowing that the path forward is secure at Smuin and generations of dancers and patrons will continue to benefit from the distinctive art and heartfelt beauty that touches so many every year.
With sincere gratitude,
Celia Fushille
July 2023