Class for a Cause-Spring in your Step: Supporting Seniors!
Come celebrate spring in Smuin Center for Dance's newest Class for a Cause: Spring in your Step: Supporting Seniors! All proceeds from this class will be donated to Little Brothers: Friends of the Elderly in San Francisco. This nonprofit works to alleviate loneliness and isolation of elders through companionship programs and community events. Smuin Center for Dance believes in the power of dance to bring people together, exercising muscles and minds with open hearts.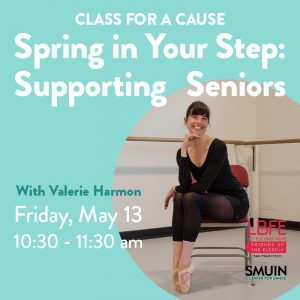 Join us in person at our studios (1830 17th St. San Francisco) or join us online from the comfort of your own home!The class will be a low-level dance and movement class for older adults as well as anyone with limited mobility. Tell your mom, aunt and uncle! Taught by certified personal trainer Valerie Harmon, who teaches our Stretch&Strength classes, this class will be designed to be accessible, easy going and full of fun music. Come move for a cause and support older adults at Smuin Center for Dance.
Smuin Center for Dance created Class for a Cause to raise funds that are donated directly to nonprofit service organizations that work to make active change in our communities. Since the program's inception we have raised close to $5,000 for local charities.
Our March 2022 Class for a Cause invited dancers to join Menjun for an hour-long HYBRID Ukrainian Folk Dance class held on March 25, 2022. We raised $590 and proceeds were donated to benefit the International Committee of the Red Cross. The ICRC is active in providing aid for those affected by the current humanitarian crisis in Ukraine. Come celebrate a beautiful culture and help us support those in need around the world.
January 2022 our Class for a Cause was Fri-YAY Fit & Fun to benefit our neighbors at The Food Pantry taught by Valerie Harmon on Friday, January 28, 2022. We raised $560 which was enough funds to provide weekly groceries for 11 families for one year!
Smuin Contemporary Ballet is committed to offering opportunities for dancers to do what they love while supporting causes that are important to our community.
Previous causes have included the ACLU, California Community Foundation Wildfire Relief, Center for Black Equity, the NAACP, and the San Francisco-Marin Food Bank.
100% of Class for a Cause proceeds are donated to charity.
Save your spot in class! Join us and let's dance for good!
Smuin Cares! Please complete the form below and tell us about your event for your nonprofit 501(c)(3) organization to request donated tickets to our performances. We look forward to returning the support you have shown us.