Lady Camden from RuPaul's Drag Race returns to host Smuin's LGBTQ+ Night performance and Afterparty for one-night-only December 19!
Hosted by Lady Camden, fan favorite and first runner-up on RuPaul's Drag Race season 14, Smuin's The Christmas Ballet LGBTQ+ Night returns to 'slay' again with an especially queer one-night-only performance on Tuesday, December 19th in San Francisco that is sure to be just what you need this holigay season.
Portions of the evening's ticket sales benefit our partner organizations who are doing incredible work for the queer community. This year we are proud to once again join forces with Project Open Hand, The Imperial Council of San Francisco, the LGBT Asylum Project and others. Every ticket sold means that these amazing organizations can continue to do their transformative work in supporting queer people. See below to learn more about our partners.
The evening doesn't end after the show!
Join us at the Afterparty! Dance the night away with the current reigning monarchs of the Imperial Council of San Francisco and Lady Camden herself! There will be a line dance led by Sundance Saloon, a full DJ set, photo booth and more! 
Ticket includes drinks for those over 21! A tequila bar by Casa San Matias will have a signature cocktail for the evening, and wine is generously donated by Teneral Cellars.  The Afterparty starts at 9:30 pm immediately following the show- just follow the music across the plaza!
Tickets are $30 per person, to celebrate Smuin Contemporary Ballet's 30th Anniversary!
Party is open to all ages, minors must be accompanied by an adult and all must present identification at the door.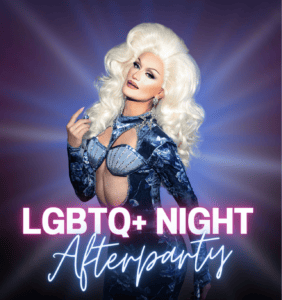 Project Open Hand, founded in 1985 to feed people with HIV/AIDS. Project Open Hand serves life-saving, medically tailored nutrition to community members experiencing critical health conditions including HIV/AIDS, diabetes, cancer, and heart disease in San Francisco and Alameda counties. Our food is like medicine, helping our clients recover from illness, get stronger, and lead healthier lives.
The Imperial Council of San Francisco collects charitable contributions from individuals and organizations, distributing them to other non-profit and public benefit charitable organizations, and have fun doing it! Hosting and participating in a variety of entertainment and educational events and activities that raise monies, The Imperial Court of San Francisco supports the causes of diverse community-based charitable organizations that do not discriminate based on race, age, sexual orientation, religion or ethnic background.
The LGBT Asylum Project is the only San Francisco nonprofit organization exclusively dedicated to providing accessible legal representation for LGBT asylum seekers who are fleeing persecution due to their sexual orientation, gender identity and/or HIV status.
Openhouse SF was founded in 1998 to enable lesbian, gay, bisexual, transgender, and queer (LGBTQ+) seniors to overcome the unique challenges they face as they age by providing LGBTQ+ welcoming housing, resources, high-impact direct services, and innovative community programs. Our work reduces isolation and empowers LGBTQ seniors to improve their overall health, well-being, and economic security. We are a dynamic and entrepreneurial organization and are on the leading edge of the growing field of aging services for LGBTQ elders at the local, state, and national levels.  Openhouse believes in manifesting opportunities with, and not just for, LGBTQ+ seniors to build and reconnect with community by providing housing, direct services, and community programs.
Lady Camden photos by Maximillian Tortoriello Photography
Blue Shield of California Theater - Yerba Buena Center for the Arts

700 Howard St. San Francisco, CA