Dance Series 1 – Digital Program 2022
Photo of Maggie Carey by Chris Hardy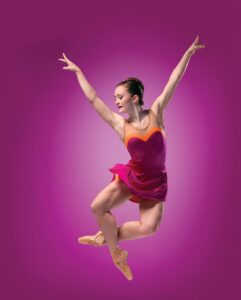 Dear Ballet Patron:
Welcome to the theater as we kick off Season 29 at Smuin Contemporary Ballet. We're happy you're here to join us!
Dance Series 1 allows us to continue creative plans that were shelved by the pandemic.
Smuin alum Rex Wheeler's tribute to American jazz pianist Dave Brubeck, titled Take Five, brings a splash of color and fun to the opening of our program. Wheeler imbues his piece with his own flirtatious wit. Take Five strikes a joyful mood of humor and celebration that highlights both Brubeck's phrasing and the athleticism of our artists.
We first performed Requiem for a Rose by Annabelle Lopez Ochoa five years ago. Twelve dancers, stylized to represent the roses of a bouquet, dance in contrast to the lone female soloist. Set to the adagio movement of the Quintet in C major by Franz Schubert, Requiem for a Rose is an exceptional example of Lopez Ochoa's distinct classical and contemporary vocabularies.
Cuban choreographer Osnel Delgado contributes a world premiere to our program, created especially for our artists. Sharing his culture and movement with us reaffirms our belief that dance is a universal language that transcends borders. When I met Delgado in Cuba in 2012, I never imagined it would take a decade to realize my dream of exposing our dancers to Delgado's artistry. The results are mesmerizing.
Thank you for being with us!
Celia Fushille
Artistic Director
With Gratitude
Smuin is grateful to be sponsored in part by San Francisco Grants for the Arts along with:
Take Five
World Premiere: September 20, 2019
Choreography: Rex Wheeler
Music: Recorded by Dave Brubeck
Costume Design: Kaori Higashiyama
Lighting Design: Michael Oesch
Raised in the hay fields as a young cowboy, Dave Brubeck drew early inspiration from the rhythms and sounds in his daily life. It's this authenticity, coupled with his sense of humor, that has always drawn me to his music.

When listening to his many hits I always knew there was one company with whom I'd have the most fun creating Take Five – one near and dear to my heart. As we dance this, I hope Michael is watching over us, tapping his feet. Keeping an eye on us to make sure we keep things fun.

– Rex Wheeler
Requiem for a Rose
World Premiere: February 2009, Philadelphia Ballet
Choreography: Annabelle Lopez Ochoa
Music: Franz Schubert
Additional Soundscape: Almar Kok
Costume and Scenic Design: Tatyana Van Walsum
Lighting Design: Tony Tucci
Lighting Adaptation: Michael Oesch
Supporting sponsorship of Requiem for a Rose is generously provided by Harvey Lynch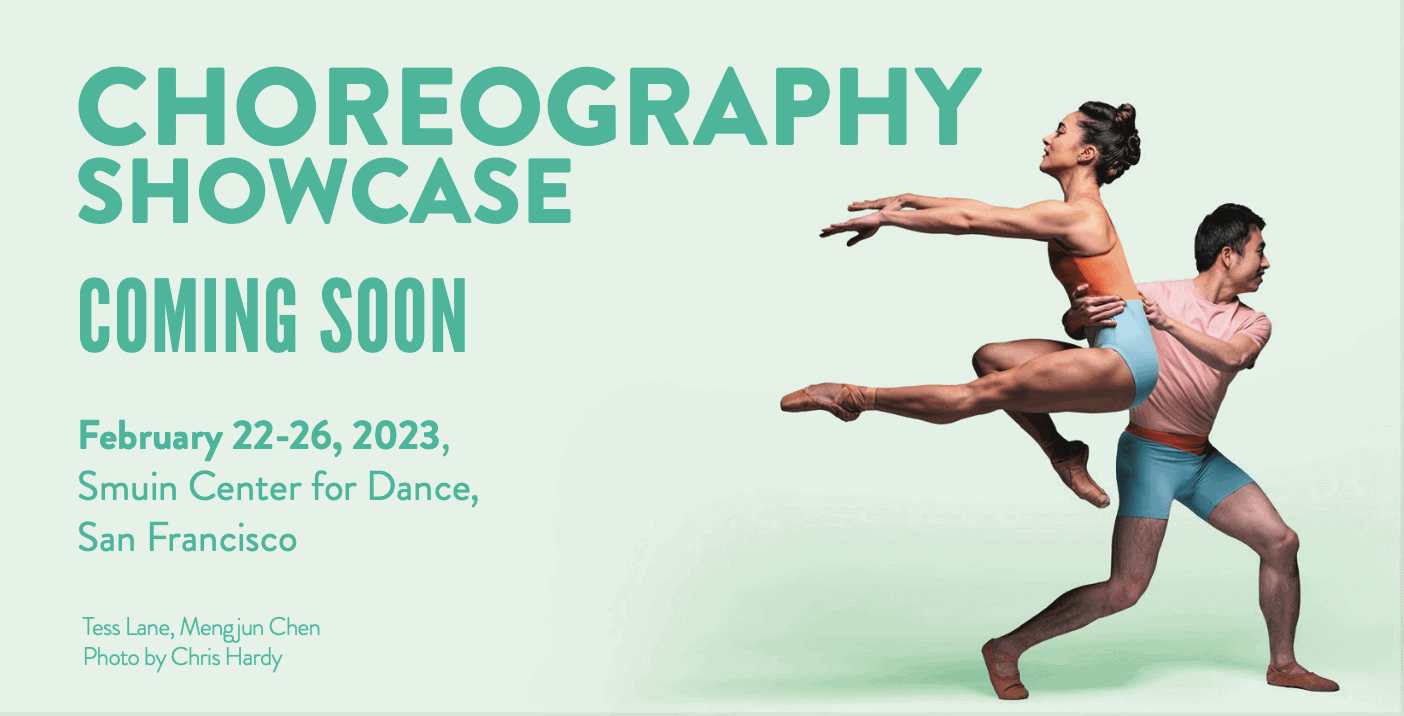 The Turntable
World Premiere: September 16, 2022
Choreography: Osnel Delgado
Music: Various artists
Costume and Scenic Concept: Osnel Delgado
Lighting Design: Michael Oesch
The world turns while she remains on pause. Static in the center of space, frozen like someone waiting for the perfect companion, who shares
a bolero in reverse, altered, mystical, and unfinished; the melody
of a heart amplified by the austere needle of oblivion.

Away from the eyes, the looks, and the gestures of the others, I slide subtly
in your quest. Through the circles of stillness, I break the inertia of the measures, I rewrite with each step the perfect song of our encounter,
the tired chords of our embrace, and the sublime harmony of our dance.

– Osnel Delgado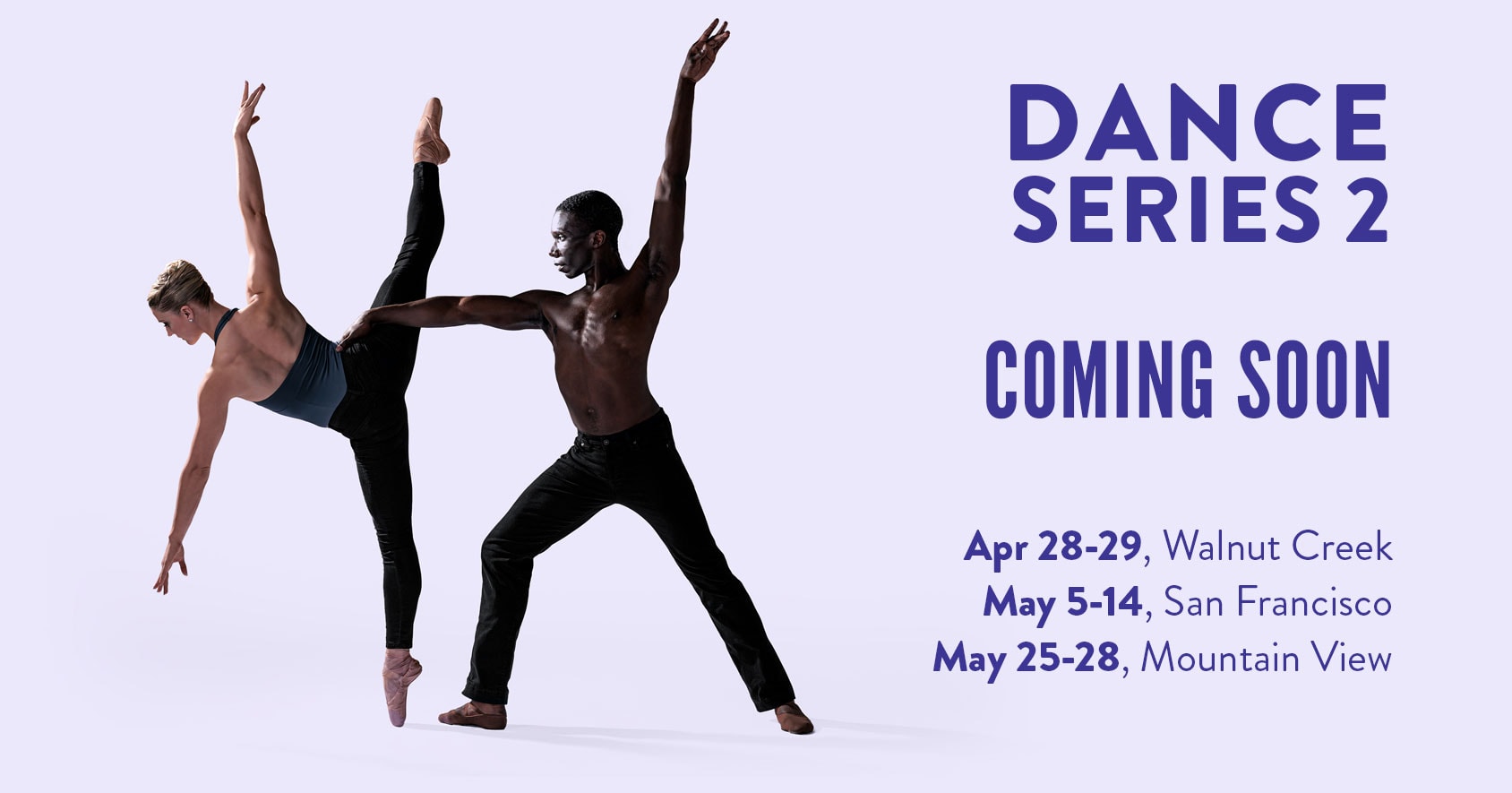 Leadership
Founder
Michael Smuin
Artistic Director
Celia Fushille
Managing Director
Lori Laqua
Company Manager & Wardrobe
Jo Ellen Arntz
Ballet Master & Education Program Director
Amy London
Production Director
Kathryn T Graham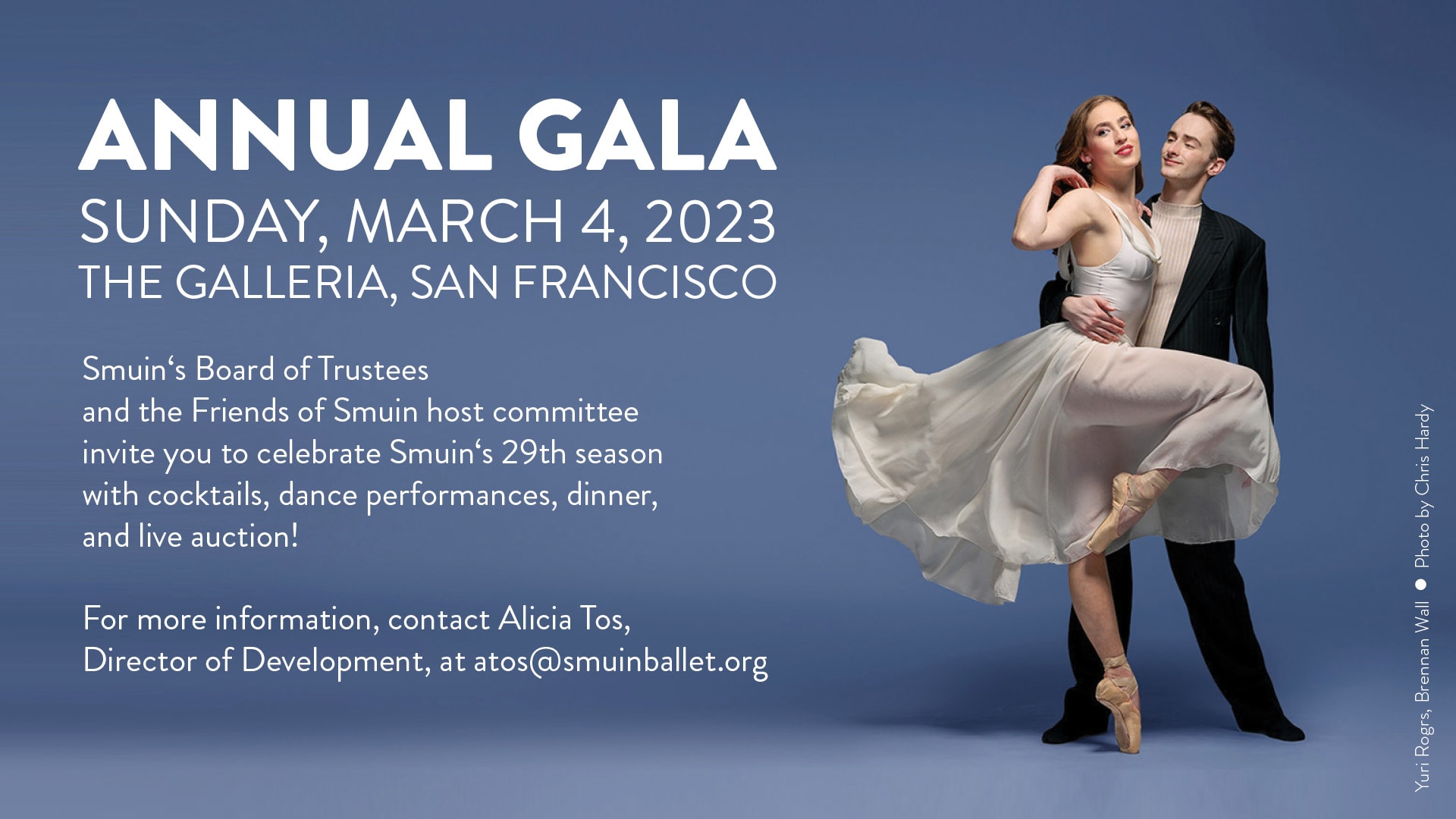 Team Members
Alicia Tos • Director of Development
Meagan Mod • Senior Development Manager, Individual Giving
Coral Bell • Development Operations Manager
Cassandra Brighter • Marketing Director
Maggie Carey • Digital Marketing Assistant
Claire Buehler • Digital Marketing Assistant
Jason Narin • Finance Associate
Aja De Coudreaux • Patron Services Manager
Ellen Gaintner • Special Projects Manager
Benjamin Warner • Community Engagement Manager
Michael Oesch • Lighting Director
Taylor Ryan Rivers • Technical Director
Kay Park • Sounds & AV Director
Alex Wolfthal • Stage Manager
Vincent Avery • Wardrobe Assistant
Carla Befera & Company • Publicist
Chris Hardy • Photography
Wuthmann Digital • Website
Board of Trustees
Madeleine Boshart • President
Trisha Mount • Vice President
Karen D. Kadushin • Secretary
Hal Louchheim • Treasurer
Lee D. Baxter
Bruce Braden
Robert Challey
Celia Fushille
John Konstin
Linda Membreño, M.D.
John Schlag
Randy Soso
Susie Stitt
Emeriti
Patti Hume • Founding President
Vicki Fleishhacker
Robert Greenwood
Edie Kirkwood
John Murphy
Sue Steinberg
Allie Weissman (In Memoriam)
Casting for Live Performances 

We will see you at the theater!
Performing Now (casting will be provided before the shows)
October 7-8, 2022: Lesher Center for the Arts,1601 Civic Dr., Walnut Creek – Click the link to open, view and print casting
Past Performances
September 23-October 2, 2022: Cowell Theater, Fort Mason Center for Arts & Culture, 2 Marina Blvd, San Francisco
9/30-10/2 – Click this link to open, view and print week 2 casting.
9/23-25 – Click this link to open, view and print week 1 casting.
September 16-18, 2022: Mountain View Center for the Arts, 500 Castro Street, Mountain View
Click this link to open, view and print Mountain View casting.
Music Credits
Take Five
"Theme from Mr. Broadway"
"Unsquare Dance"
"Blue Rondo a la Turk" (Dave Brubeck/Derry Music Company)
"Take Five" (Paul Desmond/Desmond Music Company)
"I'm in a Dancing Mood" (Al Goodhart/Campbell Connelly Inc, Maurice Siegler/Warner Chappell Music, Al Hoffman/Al Hoffman Songs)
"Perfidia" (Alberto Dominguez and Milton Leeds/APRS)
"Memories of You" (Andy Razaf/Razaf Music and Eubie Blake/Shapiro Bernstein & Co Inc)
Requiem For a Rose
String Quintet in C, D956: Adagio, performed by Alban Berg Quartet, Heinrich Schiff, cellist
The Turntable
"Tashweesh" (Ramallah Underground, arrangement by Kronos Quartet &
Jacob Garchik) from Floodplain, Nonesuch Records, Warner Music Group
"El Sinaloense" (Kronos Quartet, remix by Terrestre) from El Sinaloense Remixes EP, Nonesuch Records, Warner Music Group
"Los pasos perdidos, II: Largo viaje hacia la noche" (Leo Brouwer) from Homo Ludens,Producciones Colibri
"Wayne's Thang" (Kenny Garrett, arranged & recorded by William Roblejo),
"En las Tinieblas (Bolero)" (Alfredo Gil, arranged and recorded by Miguel de Gonzalo & Aldemaro Romero y Su Orquesta)
from Carnival Con Aldemaro y Sanoja.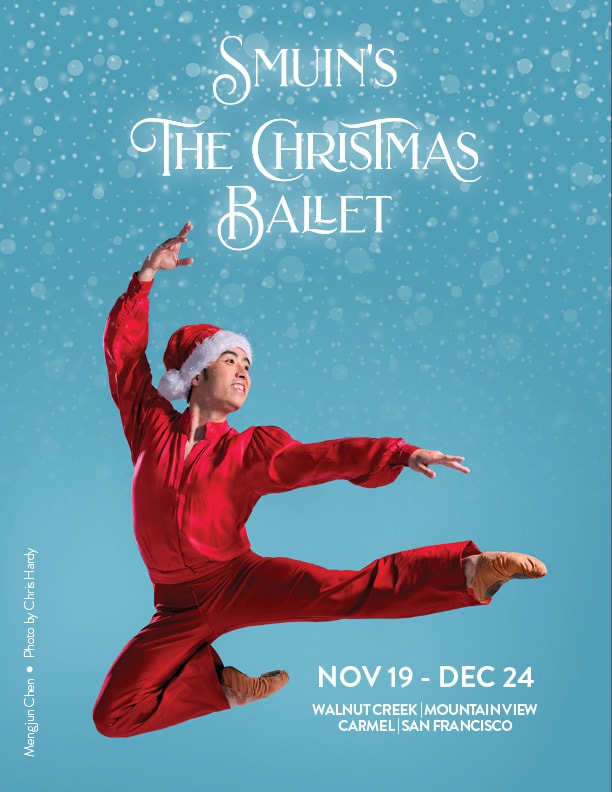 Costume Construction
Requiem for a Rose – Costumes courtesy of Philadelphia Ballet
Take Five – Kaori Higashiyama
The Turntable – Jo Ellen Arntz, Vincent Avery & Joan Pino
Special Thanks
Richard Binkoff, Frank Ching & Charley Kearns, Ted Helminski, and James Horio
Company Teachers
Sandra Chinn
Robin Dekkers
Celia Fushille
Valerie Harmon
Xiao Liu Moore
Amy London
Rika Onizuka
Amy Seiwert
Julianne Spratlin
Katarina Wester
Company Pianists
Raymond Fabrizio
Donald White
Lynn Inglese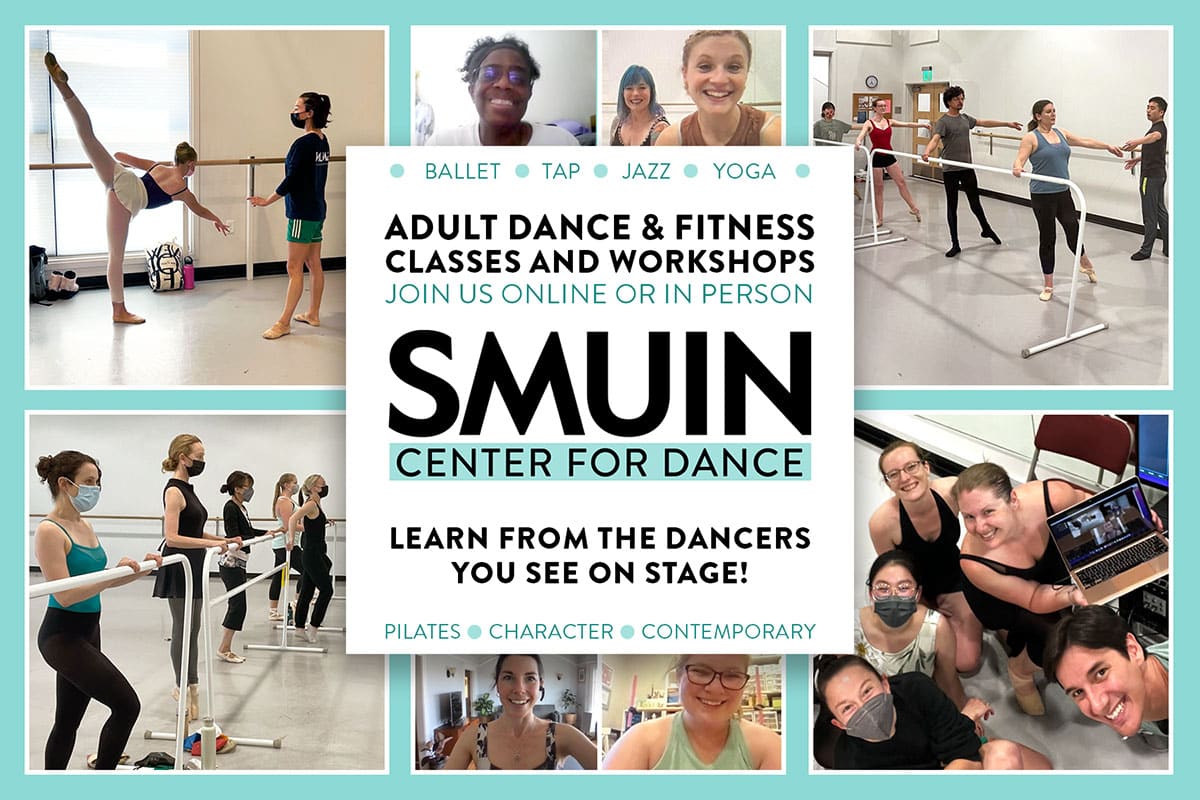 Wellness Team
Lead Physical Therapist
Suzanne Martin DPT and Shirley Kollmann
Acupuncturists
Stephen Coleman
Devin Wu
Kristina Yotive
Chiropractors
John DeRoy
Leonard Stein
Allen Wood
Massage Therapists
Carolyn Hart
Yueming Li
Visiting Physical Therapists
Alyssa Herrera-Set DPT
Aimee Martel DPT
Meaghann Oakes-Rust DPT
Robin Tobias DPT
Orthopedic & Physical Therapy
Dr. Michael Dillingham
Dr. Kevin Stone and the Stone Clinic
Dr. Alicia Knee Center for Sports Medicine
Lisa Giannone Active Care Physical Therapy
Jeffrey Cohen Hilot Therapy
With Our Thanks
Smuin is deeply grateful to the following individuals and organizations for their generosity. It is through their support that we are able to create innovative works and share the beauty of dance. This list acknowledges contributions made between July 1, 2021 – July 31, 2022.
We've made every effort to ensure that our donor list is accurate. Please contact Alicia Tos, Director of Development, at 415-556-5000 x100 or atos@smuinballet.org with corrections.
Your continued support keeps us dancing! Every gift matters. Thank you.
Click here to add your name to our donor roster
A gift of $50,000+
Julie Dickson
Grants for the Arts
Dr. Richard & Sharonjean Leeds
Kevin M McCoy
The Shubert Foundation
A gift of $25,000+
Anonymous (2)
Ms. Madeleine Boshart
Daniel & Allyn Carl
Dell Larcen & Ron Meserve
Harvey Lynch
Dr. Linda Membreno
The Bernard Osher Foundation
Bill & Kara Rosenberg
Drs. Lynn Spitler & Ted Eger
A gift of $10,000+
Sandy Abbott
Karen Bartholomew
Lee D. Baxter
Dr. Barbara L. Bessey
Bruce Braden
Clement Chen III
Gloria & Michael Chiang
Ms. Florence Danneberg
Joe DeBellis & Pat Ronzone
Tom Frankel & Janet Reider
Martha Gates
Guy & Tracy Jaquier
Karen D. Kadushin
Joanna & Danny Kemper
John & Athena Konstin/ Historic John's Grill
Shirley & Hersch Loomis
Hal & Carol Louchheim
David Meders
D. G. Mitchell
Trisha Mount & Andrew Etherington
Dorothy R. Saxe
John Schlag & Jennifer Gennari
Randy & Barbara Soso
Stephanie Kalman Foundation
Susan & Britt Stitt
Fred Terman & Nan Borreson
Loreli Trippel
Irv Weissman
Amanda Weitman & Chris Heffelfinger
Wilson Sonsini Goodrich & Rosati Foundation
A gift of $5,000+
Melanie Ruth Adams & Dennis M. Fisher
Anonymous
Aukum Group
David Beckman & Sharon Kuroki Beckman
Richard Binkoff
Janet & Kenneth Bollier
Bob & Sheila Challey
Amie Chang
Ms. Marilyn Charm Frank Ching & Charley Kearns
Bill & Nancy Doolittle
Edie Kirkwood Fund
Robert J. Eldred & Elizabeth J. Folger
Mr. & Ms. Gregory M. Giffra
Mr. William Gregory
Carol Marsha Kaganov
John Lazlo & Robin Raborn
Susan Lowe
Buffington Miller
Mark Palmer
Thomas Savignano
Eleanor Sue
Tenby Group
A gift of $2,500+
Bahar Aghighi, MD
Anonymous
Jo Ellen Arntz
James B. Brennock, in loving memory of W. Wayne Hoyer
James (Jim) Carter
Antoinette Chatton
The Clark Family
Choo-San Goh & R. Robert Magee Foundation
John Clatworthy
Susan Ducoeur
John Duffy
The Fleishhacker Foundation
Gail Giffen
Celia Fushille & Chris Hardy
Ms. Lisa Giannone & Michael Dillingham
Diane Gosney & Allison Chang
Estelle Gregory
David L. Hatt
Bruce & Eleanor Heister
James Horio & Linda Cahill
Hal & Iris Korol
Ms. Debra Leylegian
Marcia McConnell
Tasia Melvin-Bartell
Meryl & Alfred Norek
Gilbert Neill & Rodney Woodard
Gary D. & Marcia L. Nelson
Louise Patterson
Anne Peterson
Potrero Hill Association of Merchants
Dennis & Jan Ruby
Ms. Gwen Smith
Paul G. Smith & Gail Erwin
Lori Arthur Stroud
Ralph Widman
Mr. & Mrs. Steve & Karen Wiel
A gift of $1,000+
Suzanne Ah-Tye & Donald Tamaki
Diane Alexander
Anonymous (9)
Charlene Archibeque
Brenda Beckett
Paula Blank
Mr. John Charles Bolger
Patricia Boone & David Pfefer
Virginia & Homer Boushey
William Britton Stitt, Jr.
Shawna Hartman Brotsky & Daniel Brotsky
Mr. Jess Brown
Richard, Elaine, & Julie Burgess
Mel & Jason Burnett
Charlie Cassell
Pamela Rummage Culp
Mr. Steve Daley
Anita & Richard Davis
Tom Debley
Judith & Harold Dittmer
Ms. Andrea Eichhorn
Hon. James C Emerson
Eric Fabianac
Leak Fairon
Dr. Robert Fallat & Dr. Allyson Lavoy
Dale Fehringer & Patty McCrary Fehringer
Suzi Ferreira
Dale Fishman
Donna & Richard Fraioli
Sharon & Joel Friedman
Russell & Emily Fudge
Diane Gardiner
Alexandra & Hanson Gifford, in Honor of Susie Stitt
William S. Goldstein & Christopher Archuleta
Hon Mai & Joseph Goodman
Kathryn T. Graham
Mary Hero
Dan Joraanstad & Bob Hermann
Nolan & Debi Kennedy
Mr. Philip Kurjan & Ms. Noel Butler
Roland & Becky Lazzarotto
Nancy Leavens
Sam Leftwich
Drs. Penny & John Loeb
Jane Lombard
Jim Lowry
Mr. Lynn Luckow
Ken & Janine Lyons
Henry Massie & Bridget Connelly
Sharon & Paul Melodia
Dr. & Mrs. Thomas Mitts
Thomas & Dona Mork J
anice Irvine-Mosher & Oren Mosher
Mr. Jerry Mosher
Robert Mount & Ceres Baldevia
Paul Munro
Steven Natterstad
George O'Neill
Ralph Pais & Gayl Huston
Gary Allan Payne, in Memory of Virginia Payne
Bev & Lew Perlson
Ms. Laura Peterson
Mrs. Lidia Pringle
Robin Raborn & John Lazlo
Camille Reed, in Honor of Patti Hume
Virgil Rittenhouse & Sue Holloway
Kathryn Rouine-Rapp
Jon Saxe & Myrna Marshall
Michael & Rachel Schuman
Ed & Chris Schweitzer
Kathleen Sidenblad
Pravin Soni & Amy Wurtzburger
John Speed Orr
Laurie Stephenson
Molly Sterling
Mrs. & Mr. Mary Alice & Walter Stevenson
Carolyn Stone
Art Strassle
Suzanne Stroh
Leslie & Steven Taglio
Lucy Weiger & Bob Crane
R. Wallace. Wertsch
David Young & Donald Bird
A gift of $500+
Robin Allgren M.D. Ph.D.
Donna Ambrosini
Anonymous (2)
Marilyn Austin
Carol D. Bacchetti
Pamela & Michael Barnes
Frank & Jeannie Berns
Michael Burke & Lynn Kennedy
Katherine Bradshaw
Chappelear Lena & Stuart Clark
John & Danielle Cleary
Christopher Conner
Dr. Bradford A. Crowell & Gary Koehler
Diana & Jed Dempsey
Irwin H. Derman
Marijke Donat
Matt Ehlen
Mr. Joseph Ficurelli
Frank & Jeanne Fischer
Vicki & David Fleishhacker
Cindy & Bruce Fox
Mr. Kirk Frederick
Ms. Yvonne Gero
D. Peter Gleichenhaus
Mr. Aurash Gomroki
Mrs. Melissa Graney
Shand & William Green
Paulette Gregg Schulte
Therese Grenchik & Lee Goodin
Shellie Hagerman
Kathleen Hall & Leslie Murdock
Stephen Hass
Rick & Ann Homan
Ms. Jan Jaso Victoria & Martin Johnson
Patrick Jude
Diane Kaercher
Robin Kennedy
James Kleinrather & Melody Singleton
Susan Lambert
Jeanne Lamprecht
Gustav Larsson
Ingrid LeBlanc
Richard Leffingwell
Pam & Gif Lehman
Marc Levinson & Mary Jane Large
Kathleen & Raymond Levitt
Linde-Sands Family Fund
Mr. & Mrs. Marc & Lois Martin
Henry Massey
Massion Giving Fund
Tim & Candy McCarthy
Mary-Helen & Kevin McMahon
Robert Melnikoff
Shauna Mika & Rick Callison
Ted Mitchell
Douglas Moore
Elliott Morin
Suzanne Moshier
Heidi Munzinger & John Shott
Sarah Nagel
James & Gwen Neary
Vickie Nelson
Sheila L. North
Marcia F. O'Hern
Theresa O'Neill
Maureen O'Shea
Chrissy Palmer
Sean Peake
Clara Pettegrew
Andrew Quint
Gordon Radley
Judi Fan & Bob Reay
Janet & Niels Reimers
Ms. Janet Lynda Reinstra
Kathryn E. Ringgold
Mr. & Mrs. Wayne Robins
Fred Saunders & Charles Kredensor
Douglas Schmidt & Stephen Martin
Mr. & Mrs. Edwin J. Schwartz
Michael Shea
Ruth Short
Kristen & Steve Siegel
Barbara Smith
Barbara Smith-Thomas
Mr. Jeffrey Sorrento
Ms. Canda Lee Steiner
Peter Stry
Mr. Lyle Swallow & Mr. Jack Becker
H. James Tellefson
Janette Tom, in memory of Mary Tom
Steven R. Wade
Bradford & Susan Wait
Ms. Rosemary Welde
Daphne & Stuart Wells
Mrs. Carolyn R Winters
Margaret Wrensch
Cynthia Wuthmann
Nancy Garton & Kent Palmerton
A gift of $250+
Chick Adams & Laurie Davies
Adobe
Katherine Akos & Harry Jacobs
Michael Angeles
Anonymous (5)
Laima Baltusis
Judy Barrett
Janelle Bedke & Ken Fox
Brian & Glynnis Belchers
Marilyn Beller
Michael Bena
Jill & Vincent Benitez
Connie Berkeley
William Berry
Albert & Arlene Boro
Ann Brown
Mr. Wayne Bryan
Joe & Cyndy Carey
Donald & Nina Carter
Paul Casagrande
David Catania & Diana Gay-Catania
Leona K. Chu
Mr. & Mrs. Charles & Lorinda Clemens
Kathy & Martin Cohn
Dan Craft
Mary Dahlquist
Charles Daly
Ms. Lena de Kesel-Lams
Mrs. Katherine E Dealtry
Carole Deitrich
Carol Duffield
John Domingos & Claudine Marken
Judith & Charles Dvorak
Steve Edmondson
Tehila & Saul Eisenstat, in loving memory of Michael Mauricio Franco
Gwen Gallagher
Kelly Gaynor
Christopher Gilkerson
John A. Gregg & Nick DiSandro
Steve & Laurie Gregory
Mrs. Maureen Grinnell
Ms. Susan Hadley
Barbara Hebert
Neysa Hinton
Imar Moreira
Charles F. Holz
Gail Hurvitz & Jerry Newton
Gayle Ing
Judy Jackovics
Frances Johnston
Nancy Jones
Carol & Thom Kato
Bill & Patricia K'Burg
Paul Kitagaki
Marcia Klein
Peter & Ann Knopf
Joseph Lawrence & Rudy Ciuca
David & Julie Lazar
Richard Leask & Barbara Means
Ruth Leibig
Frank L'Engle
Peggy Lowndes
Donald Lowry & Lynore Tillim
Patricia & Wolfgang Lusse
Ronnie Mannos
Eric Marshall
Shawn Marshall
Coralyn K. McGregor
Kevin G. McHenry
Shareen Merriam
Ms. Susan Wigh Michaud
Mr. & Mrs. Seth Moore-Brown
Beth Morris
Mr. Scott K. Nelson
Leslie W. & Lois G. Partridge, in Memory of Lois Partridge
Stephanie Paula
Ms. Susan C Peters
Chris Pisarra & Gail Giffen
Warren G. & Barbara S. Poole
Brian Ramsey/Ramsey Properties
Robert W. Rankin
Louise D. Roe
Terez Rose
Elizabeth M. Salzer
Lynn Sanford
Cynthia Schroeder
Douglas Schultz
Eileen Sheridan
Ross & Ellen Shimabukuro
Sandy Sill
Linda & Paul Sinsar
Joy Sleizer
Marilyn & Richard Sperling
Jan Spielberger
Valerie Stewart
Dr. & Mrs. Kevin & Susan Stone
Mrs. Blossom Strong
The Kirsch Family
Mr. Charles V Thornton
Mary Tilbury
Lannie Tonti & Lincoln Bynum
Marcia Tos
Sam & Joan Trust
Leon Van Steen
Madhuri Vivit
Dr. Jennifer Wahlsten
Joel & Bonni Weinstein
Alan Wessel & Margarete Leclerc
Whitesell Family Charitable Trust
Ms. Donna Young-Morrison
Tom & Jean Zimmerman
A gift of $150+
Glenn Addleman
Gonzalo Alonso
Drs. Geraldine & Paul F. Alpert
AmazonSmile
Anonymous (4)
Janet & Frank Arundel
Keith Ball & Diana Morabito
Katrina Barma & Bret Parker
Jaime & Lieselotte Bayan
Marah Brehaut
Ms. Sharon Butler
Brad & Lisa Cantwell
Charles & Deryl Castellano
Paul Churchill
Elsa Cumpton
Judie Denton
Erik & Heather Douglas
Mark Esguerra
Christina Fidler
Norma Jean Galiher
Julie & John Gerth
Maria Gounaris
Anita & Richard Grandpre
Christine & William Green
Carol Haig
Doug Hanlin
Kimiko & Joel Klein
Annette Lipkin
Peter Marra
Dorian & Joseph Martinka
Stepheny McGraw
Joan & Terry Mchenry
G Dirk Meyer
Arnold Miller
Carrie Miller
Deirdre Moore & Peter Arnold
Stephen & Wipawee Morris
Linda Muller
Padmaja Nandigam
Judith Naughton
Mr. Ronald Naventi
Mr. Robert Newcomer
Mrs. Hillevi Null
Jean & Dale Olds
Ms. Jean Olive-Lammers
Paul Ortega
Jean Parmelee
Mrs. Martha C. Parriott
Pamela Pfohl
Mr. Timothy Roach
Drew Robarts
Ms. Laura Robbin
Barbara Schurhoff
Lisa M Schuster
Dr. Chandran Shanmugam
Mr. Boris Shekhter
Mr. Sam Edward Singer
Jane Solomons
Lynne Stietzel
Pat Terman & David Frydenlund
Dillip Thakur
Tobias Physical Therapy
Lilian Wagner
Alice Weigel, in Honor of Jason Narin
Ms. Jennifer Winch
Mr. & Mrs. Richard G. Wollack
Mr. Al Zemsky
In-Kind Donors
Smuin offers heartfelt thanks to the following individuals and businesses for their generous in-kind donations:
Almanac Beer Co
Chronicle Flight
Clement Chen & InterContinental | Clement Monterey
Diane Theodorelos & Cow Hollow /Catering & Concessions
Grgich Hills Estate
John Silva & Culinary Eye Catering
Lily Spruce Events
Mercury News
McCalls Catering & Events
Palo Alto Weekly
Programmatic Online Ads
Richard Binkoff
San Francisco Bay Times
San Francisco Chronicle
SF Gate
SF/Arts
Stacy Jed & Bluestem Brasserie
Susie & Britt Stitt
Friends of Smuin
A huge thank you to the following members who serve as Company ambassadors:
Barbara Bessey
Richard Binkoff
Paula Blank
Lorinda Clemens
Alan Crouch
Pamela Rummage Culp
Bill Gregory
Tracy Jaquier
Jacqueline Jacoby
Carol Kaganov
John Lazlo
Debra Leylegian
Sam Leftwich
Susan Lowe
Lynn Luckow
Karen Maguire
Sharon Melodia
Vickie Nelson
Maureen O'Shea
Becky Pringle
Robin Raborn
Suzanne Stroh
Leslie Taglio
Suzanne Taves
Kinman Tong
Lilian Wagner
Lindsay Ward
Karen & Steve Wiel
Monique Yohanan
Legacy Circle
Please consider sharing your passion for innovative, evocative, contemporary ballet with future generations. By naming Smuin as a beneficiary in your estate plans and joining our Legacy Circle, your planned gift transforms your passion into a lasting legacy and investment into Smuin's future. We are deeply grateful to the following individuals for their generosity and forethought:
Anonymous
Jan & Dennis Adair
William Bason*
Bruce Braden
James Brennock
Patricia & Richard Campbell
Mary Canning
Marilyn Charm
Clara Degen*
George Doubleday II*
Edmund Eger* & Lynn Spitler
Teren D. Ellison
Trisha Mount & Andrew Etherington
Frederic Freund*
Emily & Russell Fudge
Celia Fushille
Rudolph Glauser*
Beverly & Tom Gorley*
Marguerite E. Griffith*
Milan Milton Holdorf*
Mary Greer & Joie Hubbert*
Diane & Rob Johnson
Karen Kadushin
Carol & Alan Kaganov
Joanna & Danny Kemper
John Lazlo & Robin Raborn
Dr. Richard & Sharonjean Leeds
Cliff Leventhal
Jan Loomis
Kevin McCoy
David Meders
David & Violaine M'Raihi
Heidi Munzinger & John Shott
Deborah Ogden*
William Oman & Larry Crummer
Mary Jo Pace*
AnMarie Roache
Fred Saunders & Charles Kredensor
Dorothy Saxe
Barbara Schurhoff
Hal Segelstat
Ralph D. Sikes
Jeanette Sperry*
Jan Spielberger
Bert & LeAnne Steinberg
Susan & Michael Steinberg
Mike Tully
Lauri Vaughan*
Rosemary Welde
*(deceased)
Printable Program PDF
In order to be more conscious of our single-use materials, there are limited copies of our print program offered at the door this year. If you would like to ensure you have a physical copy, you have the option to print your own or save and view it as a PDF. Our program is linked below.